NNTC has introduced a new approach to public security with iFalcon Face Control Mobile smart glasses, developed for Dubai Police. iFalcon Face Control Mobile is a world's first fully autonomous AI-powered face recognition system integrated with a wearable device. The technology empowers police officers with the capability to screen the crowds and identify suspects and violators.
iFalcon Face Control runs on an algorithm that is consistently in the top five in terms of the recognition quality according to global ratings such as the Ongoing Face Recognition Vendor Test compiled by the U.S. National Institute of Standards and Technology (NIST FRVT) and Labelled Faces in the Wild. The portable face recognition system is capable of detecting up to 15 faces per video frame while spending less than a second for face detection and recognition. Due to a fast recognition speed, the system proves effective in crowded environments, including but not limited to sports facilities, public events, transportation hubs, and shopping malls. The battery keeps running for up to 8 hours of continuous operation, and the database size can contain 1 million+ unique faces.
The project included several stages:
Prototyping and preparation of project documentation.
Preparation of equipment for iFalcon Face Control Mobile kits and iFalcon manuals for officers.
Software finalization, updates for client tasks. Carrying out field tests and reporting.
Delivery of ready-made kits for Dubai Police. Supporting with updates.
Dubai Police has become the first authority in the MENA region to implement wearable video analytics for public security tasks. The solution was used for the first time while patrolling the venues of Meydan Racecourse during the 2019 Dubai horse racing World Cup. Over 50,000 visitors have attended the event. The police officers on duty, wearing iFalcon smart glasses, screened attendees in the entry zone to detect violators and suspects. The surveillance with iFalcon is performed automatically. The system does not distract the police officers on duty and gives alerts only when there is a match between the photo in the database and the person in the view of the officer. The solution increases the efficiency of investigations and public security as well as the performance of police staff. Dubai Police revealed that in 2019 the project helped arrest suspects.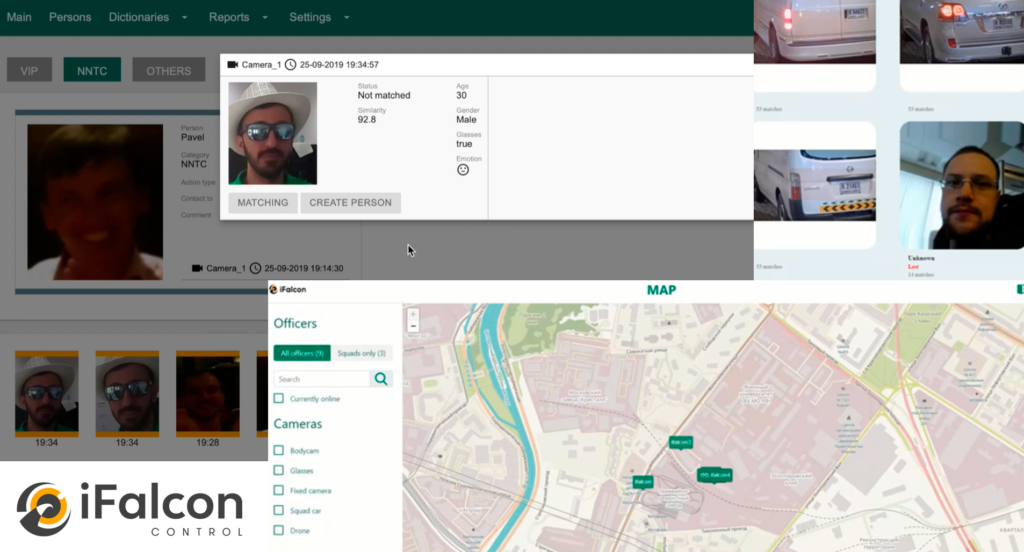 "AI-based solutions like iFalcon have a significant potential to reduce the number of accidents in the city and increase the productivity of the department. The automation brought by artificial intelligence combined with the expertise of trained police officers make up a comprehensive and effective tool in the fight against crime".

– added Dubai Police official.