A health, safety & environmental (HSE) training in virtual environment helps employees address sophisticated issues in a more effective way, ensures maximum involvement in the production process, and allows for emergency drills being difficult to conduct in reality.
Should it be high voltage equipment failure or fire at the production facility, VR safety training helps reveal employee reaction to any emergency or sudden obstacles, reproduce tricky situations when an incident doesn't follow the usual scenario, and, more importantly, enables employees to get prepared to such incidents in advance. For example, the introduction of VR in Ford's manufacturing process reduced injures by 70%.
VR TRAINING
VR training is a virtual reality app developed in line with an emergency response procedure and staff training methodology as prepared by the specialists of the customer's training center. During such VR trainings, employees obtain necessary knowledge and skills and pass tests in a computer simulation, with the test results being available for the supervisor who thus can speed up onboarding and new knowledge perception through practice.
Any hazardous situation or emergency, such as accidents on electrical distribution networks, can be easily reproduced in a computer simulation, with virtual reality technologies being capable of showing almost any content, including even "playback" of past accidents to prevent them in the future.
The consequences of any HSE breach can be reinforced in virtual reality through visual effects, like a full-screen explosion accompanied by bruising, thus impacting psycho-emotional state of employees to make them be more careful in their routine activities.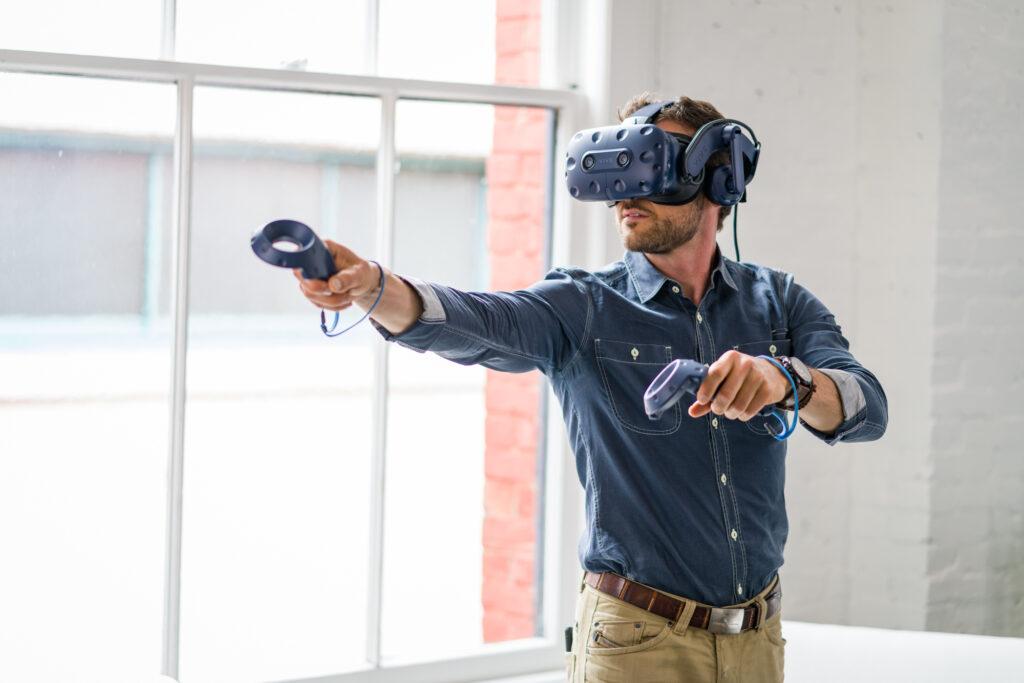 VR TRAINING FORMATS
VR training formats may differ depending on a particular task, each having certain advantages and limitations.
VR trainings can be tailored to various platforms: PC, VR glasses and headsets, industrial VR systems or multi-user devices with VR support. Each scenario differs in terms of user immersion, content adaptability for mobile use, and the quality of graphics.
Augmented reality 3D apps for smartphones and tablets can be used almost anywhere; however, the mobility advantage is balanced by rather poor quality of graphics.
Training on desktops (PCs) and laptops boasts the highest possible quality of graphics with an average level of immersion and mobility and is the most common format used by corporate training centers today.
VR tools are usually divided into:
VR glasses using a mobile device ("mobile VR")
VR systems ("stationary VR"), including helmets, joysticks, space positioning systems and powerful workstations (VR Ready laptops or powerful PCs) for the highest possible content broadcasting
Each format has its advantages and limitations. Thus, mobile VR has a high level of mobility, as users need just a smartphone or VR glasses themselves, and a high degree of immersion, since employee's peripheral vision is not distracted. Both elements easily fit in a backpack, medium-sized bag or a classic briefcase. As a result, coaches are not tied to a specific training location and can easily conduct field demonstrations almost anywhere.
However, VR glasses do not support physical movement, with all content being perceived just from one point in a 360-degree format.
VR systems (HMD) offer the best possible graphics and the ability to move within a space of nine square meters, thus making it possible to get oneself truly immersed into virtual reality and interact with the surrounding virtual space using joysticks.
This format can be considered mobile as well because the equipment itself does not take much space and is not very heavy, but installation and configuration takes time and effort. This tool is perfect for classrooms at corporate training centers. In addition, a multiplayer solution is available for collective training where users can see avatars of each other, communicate and perform collective actions in a virtual world, thus achieving the maximum degree of immersion.