iFalcon Control Mobile
The worlds' first autonomous mobile face recognition with AR smart glasses
iFalcon Control™ Mobile is a world's first fully autonomous AI-powered face recognition system integrated with a wearable device – AR smart glasses. iFalcon™ Control Mobile is designed for law enforcement officers and security guards on patrol. The bodycam or smart glasses screen the crowd to match faces against a database of violators, missing people or suspects. Once there is a match, the solution retrieves relevant information from the database and instantly sends an alert via AR smart glasses.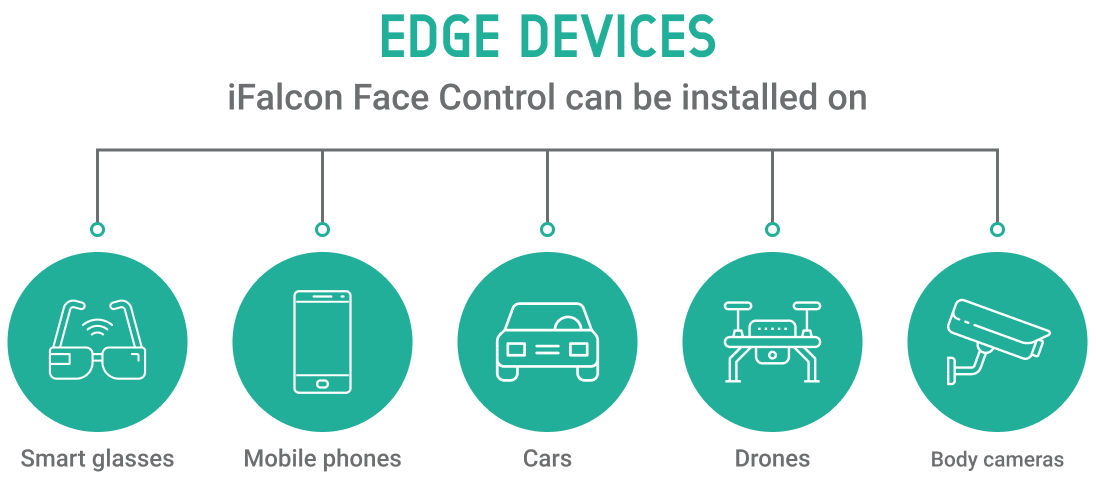 Request a live demo
iFalcon Control Mobile brings face recognition capabilities anywhere, even without the network of CCTV cameras covering every inch of the city. It proves particularly effective in:
Detects people at public events, sports facilities and in other crowded areas: violators, 'watchlisted' individuals and missing people
Public surveillance in transportation stations, airports, subway and other transport facilities
Monitoring immigrants and identification of violators and imposters at border customs control
Verification of identity according to 'white list'
Preventing terrorism, espionage and unauthorized access to sensitive areas

AR alerts
Received in glasses within less than a second

Autonomous
Does not require any data connection

Portable
And easy to carry with

Wireless
Up to 8 hovers on battery
How do we stand out?
iFalcon runs on an algorithm which is in the top three in terms of the recognition quality according to global ratings such as the Face Recognition Vendor Test compiled by the U.S. National Institute of Standards and Technology (NIST FRVT) and Labelled Faces in the Wild.
15 faces
Detects up to 15 faces per videoframe in 1s
< 1 sec
Total time for recognition and alerting
< 1 million
Can handle 1 million unique faces in database
Autonomy
No data connectivity is required
Reviews
The Guardian
"What next? Ubiquity, perhaps. The US firm, Vuzix, has teamed up with a Dubai firm, NNTC, to produce facial recognition smart glasses"
TechCrunch
"The good news is that this means it's going to be relatively circumscribed and specific in its usage: Basically it works best when you know who you're looking for, and that means suspects or knows offenders, and potentially missing people"
The Verge
"Facial recognition smart glasses could make public surveillance discreet and ubiquitous – a new product from UAE firm NNTC shows where this tech is headed next"
PCMag
"For better of worse, a US-based maker of smart glasses woll merge its technology with a acial-recognition system in Dubai to help law enforcement in the Middle East catch criminals"
PennyStocks
"Groundbreaking tech development"
Zawya
"The independent Face Recognition Vendor Test conducted by the US National Institute of Standards and Technology (NIST) has recorded a True Positive Rating (TPR) of 97.45%, indicating a high percentage of accurate matches, and a False Positive Rating (FPR) of only 0.1% on a test database of over one million faces for NNTC's face recognition algorithm"
How it works?
AR smart glasses or bodycam detect faces with built-in camera and transmit information to a wearable portable computer over wireless channel
Portable computer processes face images and compares them with faces from the database
Portable computer finds the match in the database
Once face match is found, a user is alerted via smart glasses
Additional alerts can be sent to mobile devices
IFALCON PRESENTATION (EN)
IFALCON PRESENTATION (AR)
Technical Specifications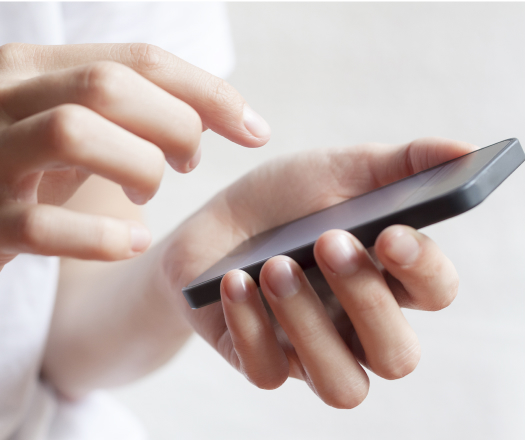 Mobile Server
Battery life - Up to 8 hours without charging
Battery - 2 hot swapping batteries
Wireless - Wi-Fi, Bluetooth
CPU - Intel ® Core ™ i7-8650U
RAM - Up to 32 GB DDR4-2400 1.2V SO-DIMM
SSD - 256 GB
Inputs - 2 USB ports
Dimensions - 175*160*60 mm
Authentication - Embedded fingerprint scanner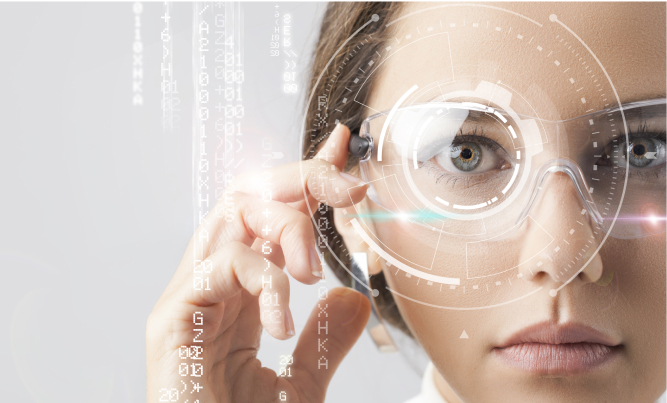 AR Smart Glasses
Display - Cobra II full-color DLP
Camera - 8 Megapixel, 720p video
CPU - Quad Core ARM
Battery - LiPo
Wireless - Wi-Fi, Bluetooth
Operation - Touch pad with gesture
Alerts - Haptic vibration
OS - Android
IOS Application: Command Center at hand
With alerts, fast person creating, map and live video stream – the remote command center is no longer a prerequisite for users to do their job effectively as each group member can now easily access the database and use the necessary functionality to work with it:
Real-time control of the team and raised alerts from the mobile device. The team members and raised alerts are displayed on a scalable map with an ability of a detailed view of each alert. The map filters by alerts, users and cameras.
4G connection. Adds an opportunity to connect devices via 4G using static IP
GPS tracking. Receiving GPS coordinates from mobile servers and mobile devices and showing them on the map
ID/Passport checking. Emirates ID and Passport recognition via companion app for mobile devices
License plate recognition. Easily track vehicle movements and identify both stolen and wanted vehicles.
Function to add a person to the database from the phone camera
Displaying the history of received alerts
Become a Channel Partner
At NNTC we believe that the strongest ideas and innovations are usually born in cooperation. Join our network of technology companies, inspired to make a better future. Take advantage and use international expertise, as well as develop your business with the help of iFalcon video analytics solutions.
If you'd like to be considered for future partnership opportunities, please get in touch: partners@nntc.digital